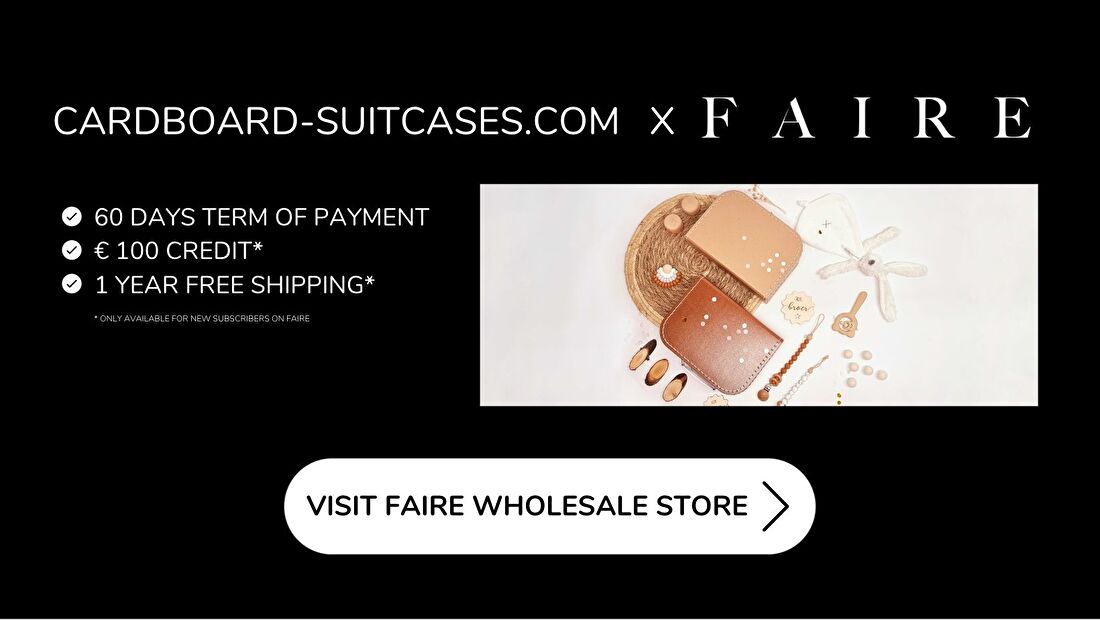 NEW ON CARDBOARD-SUITCASES.COM!
We can ship worldwide ( USA - UK - Canada - Australia - Belgium - Denmark - Germany - Finland - France - Ireland - Italy - Luxemburg - Norway - Austria - Portugal - Spain - Sweden - Switzerland )
It is very important that you order with the FAIRE link, so we can ship easily with UPS to all those countries.
The prices of the suitcases on the FAIRE website are the same as on our website.
But for us is it is so much easier to ship to all these countries!
Do we see you on FAIRE?
cardboardsuitcases | cardboardsuitcase | cardboardsuitcasewithname | suitcasewithname | cardboardsuitcasescom | wholesalecardboardsuitcase | wholesalecardboardsuitcases | cardboardsuitcasesUSA | cardboardsuitcasesUK | cardboardsuitcasescanada | cardboardsuitcaseswordwideshipping | playroom | childrenbedroomaccessories | childroomstorebox | childrenssuitcase | babysuitcase | babyshowergift | babyshowerpresent | babyborngift
Suitcase WHITE 25 cm

∙ Color: white
∙ Dimensions: 25 cm wide x 18 cm height x 9 cm depth
∙ Color handle: white
∙ Material handle: metal
∙ Color stitches: white
∙ Inside: reinforced with a layer of paper
∙ Metal reinforcement on the lid and inside: yes

Suitcase MINTGREEN 25 cm

∙ Color: mintgreen
∙ Dimensions: 25 cm wide x 18 cm height x 9 cm depth
∙ Color handle: white
∙ Material handle: metal
∙ Color stitches: white
∙ Inside: reinforced with a layer of paper
∙ Metal reinforcement on the…

Suitcase SOFT PINK 25 cm

∙ Color: soft pink
∙ Dimensions: 25 cm wide x 18 cm height x 9 cm depth
∙ Color handle: white
∙ Material handle: metal
∙ Color stitches: white
∙ Inside: reinforced with a layer of paper
∙ Metal reinforcement on the…

Suitcase SILVER / WHITE SQUARES 30 cm

∙ Color: silver / white squares
∙ Dimensions: 30 cm wide x 21 cm height x 9 cm depth
∙ Color handle: white
∙ Material handle: metal
∙ Color stitches: white
∙ Inside: reinforced with a layer of paper
∙ Metal…

Suitcase GREY BLUE 35 cm

∙ Color: grey blue
∙ Dimensions: 35 cm wide x 23 cm height x 10 cm depth
∙ Color handle: white
∙ Material handle: metal
∙ Color stitches: white
∙ Inside: reinforced with a layer of paper
∙ Metal reinforcement on the…

NEW COLOUR

Suitcase SAND 30 cm

∙ Color: sand
∙ Dimensions: 30 cm wide x 21 cm height x 9 cm depth
∙ Color handle: white
∙ Material handle: metal
∙ Color stitches: white
∙ Inside: reinforced with a layer of paper
∙ Metal reinforcement on the lid and inside: yes

Suitcase MINTGREEN 30 cm

∙ Color: mintgreen
∙ Dimensions: 30 cm wide x 21 cm height x 9 cm depth
∙ Color handle: white
∙ Material handle: metal
∙ Color stitches: white
∙ Inside: reinforced with a layer of paper
∙ Metal reinforcement on the…

Suitcase SOFT BLUE 30 cm

∙ Color: soft blue
∙ Dimensions: 30 cm wide x 21 cm height x 9 cm depth
∙ Color handle: white
∙ Material handle: metal
∙ Color stitches: white
∙ Inside: reinforced with a layer of paper
∙ Metal reinforcement on the…